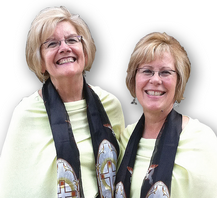 Composers, music arrangers, and producers, Maria and Gloria develop all their lyrics from Holy Scripture, prayers and devotions of the Church. Their memorable melodies and these holy lyrics allow people to pray and sing from the heart. True to their ministry, they offer all their music for use in liturgy, religious education and evangelization.
"They have composed 100+ religious songs and one sacred cantata that share our Catholic faith through music. Heartfelt songs of praise, healing, faith, hope, love, Marian songs, as well as songs inspired by the angels and saints complete their musical library. Ten CDs have been completed with plans already in the works for several more. In their 40 years as leaders of song, they have traveled in the United States, Canada, Mexico, South America, Europe, and the Middle East,

enthusiastically sharing their faith through their music and witness stories. Maria and Gloria are ready to offer you the talents entrusted to them by God, and through that offering, inspire you to use your own talents to compose, arrange, and produce fruit from the heart: in your Parish, in your Prayer Group, in your Family, and in the world!
RIA Music Ministry Inc is a faith based non-profit 501c organization that seeks to promote original liturgical, scriptural, and devotional religious music through audio formats and printed materials which deepens our Catholic faith, encourages an inner awareness of God and of self which will bring truth, love, hope, harmony and peace within the person. This interior peace within people will be the transforming element for the renewal of the community to others which must be passed on to future generations.